Our Founder
---
"The actions of a great man provide inspiration to others. Whatever he does becomes a standard for them to follow."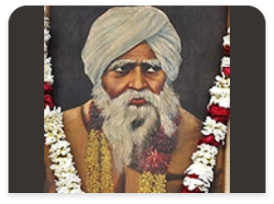 Lt. Rai Kedar Nath Ji
Our Founder
Ramjas School, Pusa Road has its genesis in the vision of Shri Rai Kedar Nath Ji, the guiding light behind the establishment of the Ramjas Foundation, one of the oldest Educational Trusts in Delhi.
A true Karma Yogi, Shri Rai Kedar Nath Ji's life exemplifies the pioneering spirit of a man. Born on 17 January 1859, his life illustrates how despite very humble upbringing, one can make a mark with sheer willpower and perseverance. Shri Ramjas Mal, the father of our founder earned his living by selling seasonal items peddling on his cycle in the streets of the walled city. His son, Shri Rai Kedar Nath Ji, a very bright student actually studied by the lamp post of the street of Old Delhi. It was his fortitude and determination that he qualified the Punjab Provincial Competitive exam and opted for judicial services.
An educationist, he strongly believed that establishment of schools was imperative to empower a child with a sound foundation of knowledge and life skills. His concern about the lack of modern educational facilities for the underprivileged children of Delhi, made him believe that the prosperity of the nation would not be possible if quality education is not accessible to the children of all classes. For this one great cause, Shri Rai Kedar Nath Ji, the great philanthropist took voluntary retirement from his services as a Sessions Judge and laid the foundation of the first Ramjas School with his entire savings and belongings (Sarvasva Daan) in the sacred memory of his father, Lala Ramjas Mal. What began as a vision with a Trust running one school has grown to 16-day schools, one day boarding school, one post graduate college and Ramjas Sports and Mountaineering Institute in Delhi.
Today, more than 100 years later, all the members of Ramjas fraternity are the "Naamlevas" of our founder carrying the principles of Shraddha, Gyan and Karma forward.